<![if !vml]>
<![endif]>  INTERNATIONAL TIMES
Established 1966                        
Archive 1966  - 1986  
Includes all fractional issues / colour- variants / flyers.
1966
Published by Lovebooks Ltd: 102 Southampton Row, London WC2
Editor:Tom McGrath; Assistant Editor: David Z Mairowitz; Production: John Hopkins;
Distribution: Roger Whelan; Advertising: Suzanne Cahn; Man-at-Large: Jack Henry Moore
Editorial Board: Jim Haynes, Michael Henshaw, John Hopkins, Tom McGrath, Jack H Moore
October 1966: Mimeographed flyer: for International Times launch party at London's Roundhouse.
<![if !vml]>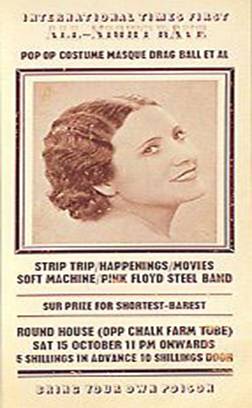 <![endif]>            <![if !vml]>
<![endif]>        
it1  Oct 14-27 1966:  Death of Andre Breton –obituary by Jean-Jaques Lebel; Yoko Ono's 'Unfinished Paintings and Objects' notice for show at Indica Gallery, 102 Southampton Row  (where she met John Lennon etc.); Adrian Mitchell poem- 'Make or Break' written for Royal Shakespeare Company's production of US, a play about Vietnam, with Glenda Jackson; Report on the Warsaw International Festival of Music & portrait of Penderecki; Bob Cobbing's Group H exhibition; Destruction In Art Symposium (DIAS) 'Two views of DIAS' - Jay Landesman and Tony Cox; a  review of 'She' –Woman as Cathedral, a ninety-foot-long woman built by Nikki de Saint Phsille, Jean Tinguely and Olof Ultvedt in the Stockholm Museum of Modern Art for Indica Gallery; Simon Vinkenoog on Provo in Amsterdam; report on Timothy Leary's 'Spiritual Stage Show' from Bubu in New York; China: by Alex Gross; Alone in Swinging London - cartoon strip 'featuring Clifton de Berry [who later became Seedy Bee] & Vera Groin in Glorious Sphinctovision', by Jeff Nuttall; Peter Asher's pop column 'Pop.. Pop.. Ouch' by 'Millionaire' – includes a report of a Rolling Stones concert at the Albert Hall; LSD; Dope prices; "What's Happening'" listings reveal 'Pink Floyd Mix Media Show' at the London Free School, All Saints Hall; Bert Jansch at St. Pancras Town Hall; Roland Kirk at Ronnie Scott's; Karma boutique opens; - 1s; 12pp                                                                   
it2 Oct 31 –Nov 13 1966: Yoko Ono; Report on the IT launch party at The Roundhouse - Pink Floyd / Soft Machine / Paul McCartney etc; Ezra Pound's unpublished wartime broadcasts on Radio Rome containing his highly controversial views. This led to complaints from his estate.See IT 3.; The Living Theatre's 'Frankenstein' script; William Burroughs' film script 'Towers Open Fire';  Robert Fraser Gallery; Open letter from Peter Brook (of the RSC) to Charles Mairowitz, followed by his reply;  Morton Feldman; 'Man of Grass' - George Andrews, see IT 3 for comment on this drug piece; Interpot Report No 3; Underground Film Festival Supplement -  run-down of underground movies of the time including Emile de Antonio, Ray Durgnat, Andrew Meyer and Dutch Provo films and the London Film Makers Co-Op; Andrew Meyer - US filmmaker; Kim Fowley – 'Portrait of a Freak'; Censorship and/or Pornography;  cartoon strip by Jeff Nuttall (Sodall), Berlin's Living Theatre; Stockholm's Fylkingen
           <![if !vml]>
<![endif]><![if !vml]>
<![endif]><![if !vml]>
<![endif]>
it3 Nov 14-27 1966: William Burroughs –first appearance of The Invisible Generation 1) - continued in IT 5.5 and IT6; Ray Durgnat -'Rubber with Violence'; interview with Morton Feldman; American War Crimes in Vietnam by Bertrand Russell;  ad for Yoko Ono exhibit at the Jeanette Cochrane Theatre; ad for Merce Cunningham and John Cage at the Saville Theatre; US composer Morton Feldman interview, and Pink Floyd; Pat Jones, 'Poets in Public Vs The Arts Council'; Seedy Bee cartoon strip by Criton Tomazos (Jeff Nuttall ); Julio Le Parc.
PROJECT SIGMA (London: Dec. 1966). Broadside sheet featuring the text of "The Invisible Generation and a photograph by Antony Balch of Burroughs on the telephone. An offset reprint from International Times #3, produced and distributed by International Times after Trocchi's request for a contribution from Burroughs to his Sigma Portfolio was not forthcoming.
it4 Nov 28th – Dec 11 1966: Mastheads by Marijke Koger (of The Fool) – " despite the constraints of letterpress, IT is turning psychedelic....".; Dick Gregory interview; John Taylor, 'The Fletcher Case'. Alexander Trocchi and Sigma; anti-Vietnam demos; happenings in Amsterdam; Alternative Moscow, Sweden, Denmark, Norway, India, Rome, New York; Paul Butterfield Blues Band; Beatniks of Berlin; Kenneth Coutts-Smith, 'Takis: Safari into the invisible': Takis at the Indica gallery; reviews of Albert Ayler, Fahrenheit 451, guide to Soho strip clubs; cartoon strip: Jeff Nuttall  ('Jeff Farkall');  ad for Pink Floyd at the Round House. -12pp 
it5 Dec 12 – 25th 1966: Message to the Queen; Interview with Claus Oldenburg: 'London: male city'; Little Richard performance, Pink Floyd and The Move reviews; Jim Dine: Indecent but not obscene...; Tom McGrath writes about being arrested for trying to steal the Crown Jewels; John Wilcock's Others Seens [sic]. Ted Joans, 'AA! AA? YEAH, AA!'; Brian Patten, 'A Liverpool Story': Herbt. Huff'; Jean Jaques Lebel: 'French Letter'.
            <![if !vml]>
<![endif]>
Assistant Editor: David Zane Mairowitz; Operations: Peter Stansill;
it 5.5:  rare Michael English print issue, William Burroughs' The Invisible Generation & Invisible Generator: "cut-out word machine poster – a new concept in cut-out manipulatable posters"  - solver on white.
<![if !vml]>
<![endif]>   <![if !vml]>
<![endif]>   <![if !vml]>
<![endif]>
1967
it6 16-29 Jan 1967:  William Burroughs "The Invisible Generation (Continued)", the second appearance of this text (following the IT poster half-issue no.5.5).; Norman Mailer on Vietnam War ; Allen Ginsberg; Cerebral Cortex. Miles' Paul McCartney interview, transcribed from a taped conversation in which they discuss fame, spirituality, drugs, and electronic music (considered to be the first rock interview in IT, though preceded by the self-publicising Kim Fowley's interview, "Portrait of a Freak" in issue no.2); ads. for Granny Takes A Trip, Hung On You, and UFO club.
it7 Jan 30th-Feb 12th 1967 'Arrest the Home Secretary' –the Fletcher Case; Outer / Inner space issue; 'Hendrix is here to Stay' and 19 according to his press handout'; Allen Ginsberg: 'Public Solitude' –an address on LSD delivered at Boston, 1966 (two pages); UFO underground event; and UFO's - ''Flying saucers as a portent of the revelations which will attend the opening of the Aquarian age" by John Michell; South Africa; Moscow;  Provo: "White Women plan"; Vietnam; Chet Helms (Avalon Ballroom) in London; Mushroom (Danish Music scene); Hare Krishna; Censorship; Ad for Timothy Leary's 'Psychedelic Prayers'; Interpot;; John Wilcock's- Other Scenes; Munich Newsletter, A Liverpool story by Brian Patten;  Traverse Theatre Company; Censorship/erotica – by Alex Gross, Paul Francis;  'Interpot' – drug report by Bradley Martin; 'Physiodelics' by Jeff Nuttall – featuring Seedy Bee; 'A War Story' by Bill Butler; 'A Scottish Soldier' by Tom & Maureen McGrath; 'Halliwell Done' by Michael Kustow – about The Experiment; Ads for Indica Books and the Poet Speak Festival 2 with Stevie Smith, Mike Horovitz, Adrian Mitchell, Brian Patten, Alan Sillitoe.
Home